Interview with a Guest Roaster: Tanager
---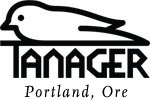 Everyone at Lionheart is so happy to announce that we are welcoming Tanager Coffee Roasters back to the shop for the month of March! We had partnered with Tanager last September featuring an incredible natural processed Nicaragua and supported his Las Cruces Project.
We met with C.J. Speelman, the founder, roaster, and all around go-to-guy at Tanager, last night for our own little cupping. C.J. went into incredible detail about the stories behind each coffee, the farms, and the families who own the farms. If I had to describe the Tanager heart in one word, it would be relationships. It's not just a business to C.J., but it is a way for him to create positive change in the world.
Before we get started, let me introduce myself! My name is Tiffany and I'm one of the baristas at Lionheart. I was given the opportunity to interview C.J. and let me tell you, he's pretty awesome! He has a huge heart for creating relationships and connecting with people through coffee, whether that happens over a delicious cup of his Colombian roast, or if it's with local farmers in Peru. All of us at Lionheart think that's pretty rad and want to embody that attitude in all of our interactions with people.
This will give you an inside look into the man behind the coffee.
Tiffany: In your own words, what is the story behind the name Tanager?
C.J.: Tanager takes its name from a beautiful group of songbirds that thrive in trees and woodlands throughout the Americas. Tanagers are unique and very important to the growing process of coffee and their migration patterns are a contributing factor to healthy environmental conditions in the growing regions. Western Tanagers in particular, find their home in the western U.S. and are commonly seen in Portland, OR the place we proudly call home. During their migratory season, they are found in number as far south as Costa Rica, eating bugs and living temporarily among larger trees and coffee shrubs.
In many ways we chose the name as a metaphor for the mission and values of the business. I want to develop a strong culture of being invested in building relationships in our local community and at the same time build relationships with coffee producers and become a part of their local communities as well. To me as a roaster, I believe telling the story of our farmers is one of the most important parts of what I do.
T: How did you get started in the coffee industry?
C.J.: I have had a passion for coffee and learning about the coffee growing regions for about 15 years now. I had an opportunity to help open a coffee shop in North Portland in 2011 which is where I took my first steps into this great industry as a Barista. I still work at that shop, The Arbor Lodge, a couple of times a week and I love serving people awesome coffee.
T: What is your favorite origin and why?
C.J.: It is a tie between Kenya and Colombia. I absolutely love the taste of Kenyan coffee! As far as origins that I have been to, Colombia definitely takes the cake so far. It is an absolutely breathtakingly beautiful country and I really love the culture and people. The coffee is so diverse in taste from micro region to micro region and can be simply stunning in the cup.
T: What are the 1 or 2 biggest impacts that you see from direct trade?
C.J.: There are so many huge impacts that taking a more direct line of trade with a coffee producer creates. Not only do producers often get paid a much higher amount for their harvest, but it also opens the door for some possibly unexpected things to occur:
It creates a healthy competition between different roasters to seek out different producers that are dedicated to growing specialty grade coffee. It also drives producers to increase their level of quality which will attract roasters to seek their partnership. When roasters and producers both have that same goal of achieving the highest level of excellence in the cup, then roasters, producers and customers all win.
Creating these direct partnerships between roasters and producers also increases the positive marketability of the coffee itself. Before the advent of these kinds of relationships, coffee was coffee. It was a way to make it through the day and maybe enjoy the flavor or treat yourself to a froufy drink. Now, we can trace a coffee to a specific GPS coordinate, shake the hand of the person who grew it, take pictures together and potentially make a huge impact on that farmers life. We are able to explore how coffee from one side of a mountain tastes different than the other side let alone the difference between micro-region, regions and continents. It is an incredible opportunity to tell the story of coffee and really take the industry to same places other beverage industries, like wine, are at when it comes to trace-ability and quality. This is largely due to roasters and producers partnering together with the common goal of creating awesome coffee!
T: What is your favorite aspect of roasting coffee?
C.J.: The actual act of roasting coffee, while incredibly technical and involved, is actually kind of monotonous in many ways. Even though I do love that aspect, my favorite part of being a coffee roaster is building relationships with people (whether they are producers, customers, baristas or other roasters), educating folks about the many different aspects of coffee from seed to cup and sourcing the actual coffee.
So there you have it folks! Stop by the shop and pick up a bag of Tanager (the Colombia is killer!) Or check out what we have in stock by clicking here.
Other coffee shops featuring Tanager include:
The Arbor Lodge – Portland, OR
Cathedral Coffee – Portland, OR
Glyph Cafe – Portland, OR
Cafe d'Amore – Pittsburg, PA