Lionheart Blog Update & Central City Concern Hygiene Drive
---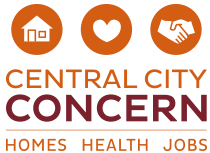 Big news friends. Huge news. We are so excited to announce that Lionheart is going to start a blog! You will now be able to keep up with the shop online. We will be posting new content every other Friday about anything from different brew methods to interviews with our monthly featured coffee roasters. Follow us on social media to stay up to date with all of our new posts!
To kickstart the blog, I want to introduce you to an organization that Lionheart has sponsored in the past and are going to be sponsoring again in March. Central City Concern is a non-profit organization based in downtown Portland that works with people who are struggling with homelessness, poverty, mental illness, and addictions.
Central City Concern is successful because it is a voluntary and holistic program. They understand that lasting results come from addressing all aspects of a person's life. CCC has made this strategy a priority and provide housing, healthcare, mental healthcare, and employment opportunities. Additionally, they provide an environment of support and encouragement. Each person in the program is paired with a mentor who has been in a similar situation and overcome it.
Central City Concern serves more than 13,000 people each year and they can't do it without the help of people in the community. Lionheart is partnering with CCC in a hygiene drive to provide the basic necessities that people need in order to really thrive in their environment.
So you might be asking, that all sounds great, but how can I help? Well let us tell you 🙂
The next time you're at the store, go ahead and pick up an extra container of shampoo or conditioner or a tooth brush (see the full list of needs below) then drop it by Lionheart and indulge in a yummy caramel breve (my drink of choice) and a scone… you deserve it!
Hygiene Kit Needs:
Soap
Razors
Shaving Cream
Shampoo
Conditioner
Deodorant
Comb
Brush
Toothbrush
Tooth paste
Washcloths
Feminine hygiene products
Want more information about Central City Concern? Visit their website www.centralcityconcern.org
Have questions? No problem! Email our awesome barista Natalie at info@lionheartcoffee.com or if you want to contact CCC directly, you can email their Donor Services Manager Catharine Hunter at catherine.hunter@ccconcern.org.