We take special care in choosing roasters and purveyors that care as much about their source as they do the final product.
STERLING COFFEE ROASTERS
Sterling Coffee Roasters, based in Northwest Portland, roasts our staple espresso blend. Their delicious Blendo Stupendo, a medium roasted espresso with notes of caramel and cocoa, is a nod to traditional Italian espresso and our featured espresso. Committed to sourcing and roasting the finest coffees, Sterling  focuses on quality over quantity, featuring only three coffees at a time. We love working with Sterling because they roast fantastic coffee, create amazing experiences in their shops (think espresso shots served in snifters!) and are constantly looking for ways to refine their craft.
THE JASMINE PEARL TEA CO.
Ready to fall in love with a local tea company? Jasmine Pearl has been slinging their brand of specialty organic and responsibly sourced loose-leaf tea since 2002. We fell in love with them from the first sip of their flagship green tea: Jasmine Pearl – a hand rolled Chinese green tea leaf scented with fragrant jasmine blossoms. Their tea softened our black-coffee hearts and we can't wait to share it with you. We will feature several of their green, black and herbal teas – including specialty tea sodas and beverages. Check in often for opportunities to interact with Jasmine Pearl Tea Co.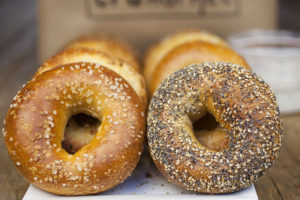 BOWERY BAGELS
Nothing quite compares to an authentic, New York-style boiled bagel with a yummy schmear—it's the perfect marriage of taste and texture if done well. We're happy to say that we've found Bowery Bagels, a Portland-based company that has perfected a genuine New York-style bagel. Started by a New York transplant, Bowery's hand rolls each bagel and uses a small batch boiling method in order to insure bagel quality, taste, and texture. The care put into Bowery Bagels is evident upon first bite—the jalapeno salt bagel had our taste buds doing cartwheels and our mouths watering for more. It's no wonder that many consider Bowery's to be the best bagel shop in town. We're happy to provide you with the opportunity to try these for yourselves at our shop.
PETUNIA'S PIES & PASTRIES
In order to accommodate those who are vegan or have a gluten sensitivity, we will also be featuring the fabulous goodies from Petunia's Pies and Pastries. Started in 2012 by Lisa Clark, Petunia's has quickly gained a reputation for producing some of the best treats in Portland. Petunia's prides itself on the quality of ingredients and healthy alternatives used in its treats, adhering to the motto that everyone should "feel great while eating dessert." We fell in love with Petunia's baby cakes (incredibly moist and decadent cupcakes), and we can't wait to share them with you!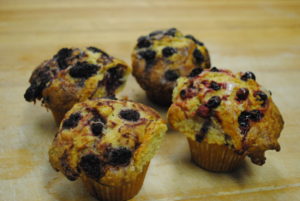 Gabriel's Bakery from Portland, OR is our staple pastry vendor. Founded by baker Amilcar Alvarez, Gabriel's features whole grain breads and French-style pastries. Incorporating culinary influences from his Latino heritage and French training into his baking, Alvarez puts a unique twist on traditional baked goods. Do yourself a favor and try Gabriel's amazing cinnamon roll—it's ooey, gooey goodness!